Home of the Baker Newby Bearisters
At Baker Newby we have always recognized that a large part of our success is due to the great communities which we service, and accordingly it has always been very important to us that our team gives back to those communities.
While we have done this in a number of ways over the years, more recently this has included participating in a variety of "athletically" based charitable events – volleyball, softball, soccer, basketball, running. Fortunately for us, the skill requirements for these events is secondary to having fun and supporting great causes, but that does not mean we don't want to look good while we are out there! (besides as many pro sports franchises have shown over the years, a new look is much easier than actually training.)
So after 83 years, we decided that we needed a team name and logo – Welcome to the Bearisters.
In addition to those charitable events however, we still continue to take pride in supporting our communities not only through numerous sponsorships and donations, but also by encouraging and supporting our lawyers and staff to get involved personally in nearly all aspects of community affairs, from fundraising activities to support Christmas programs for the less fortunate, to sitting on the Boards of various non-profit and charitable community organizations.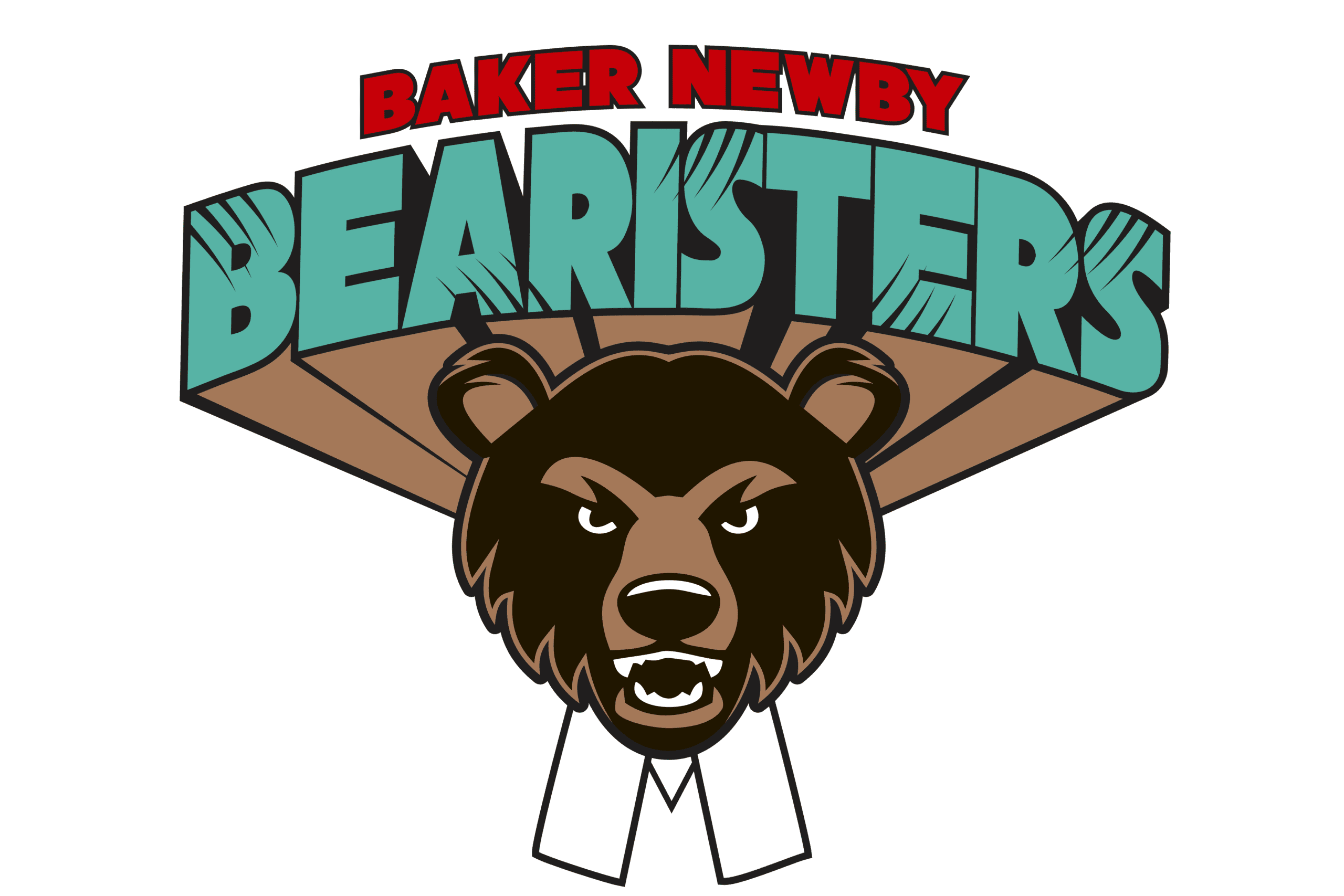 Logo designed by local graphic artist Sean Moore
The following is a list of some of the specific events and community involvement which we have historically, and/or are currently, proud to support and participate in. Where possible we have linked to the charity or organization's website or social media pages, for pictures or further information.
Major Community Sponsorships
Mémiyelhtel- Indigenous Youth Mentorship Program
Starfish Backpack Program
Dolly Parton Imagination Library
Chamber of Commerce Softball Tournament
Nick Taylor Charity Golf Tournament 
Firm Dragon Boat Team

For over 4 years now, Baker Newby staff, families and friends have put together a Dragor Boat team to race in local Regattas, with the best showings in 2016 and 2019 placing 1st in Division "A".
Salvation Army Adopt-a-Family Christmas Program

Throughout the year, staff make a monthly donation to wear jeans on the last Friday of each month.  Proceeds are then used to sponsor multiple families at Christmas time, with staff doing the Christmas shopping.
Children's Hospital Jeans Day

Annually hosted by the BC Children's Hospital, staff and lawyers are encouraged to "buy the buttons" during one of their biggest fundraiser of the year, usually occurring in June.