Major Community Sponsorships
Mémiyelhtel – Indigenous Youth Mentorship Program
Photo Credit: Sharalee Prang
Baker Newby is proud to announce the launch of a donation matching campaign, up to $50,000, in support of Mémiyelhtel.
The Mémiyelhtel program provides holistic, long-term and intensive support to vulnerable Indigenous youth between the ages of 12-19 years living within the traditional, unceded territory of Stό:lō Nation (specifically Chilliwack). The Mémiyelhtel program has been supporting Indigenous youth in Chilliwack for almost a decade, and to date has supported over 100 youth, representing over 30 different First Nation communities. Through the support of the program, there have been over 40 secondary graduates, with an average graduation rate of 79%.
An integral component of the Mémiyelhtel program is the formation and collaboration of strong community partners. At Baker Newby, we challenge our community and business leaders to consider strong financial support of this well-deserving local program.
Home – Mémiyelhtel (memiyelhtel.ca)

As captured by the traditional Halq'emeylem name, the goal of the program is to help youth be well. The Mémiyelhtel program delivers culturally relevant, dynamic, and uniquely individualized supports that create engagement and foster life promotion. The ultimate goal is to support youth to have a strong sense of identity, self-love and acceptance, while celebrating their ongoing resilience and perseverance.
The Mémiyelhtel program implements a holistic, 10-aspect model. The wrap-around services are long-term, intensive, and individualized. The program is guided by their cultural teachings. The Mémiyelhtel program is Indigenous led, not just Indigenous inspired. Engagement, positive relationships and connection are pivotal to the Mémiyelhtel program. We strive to make each of our interactions with youth meaningful and use this to serve as foundation for their future trajectories.
Baker Newby – One-for-One Campaign – Mémiyelhtel (memiyelhtel.ca)

Chilliwack (September 20, 2022)
PRESS RELEASE – Mémiyelhtel – Indigenous Youth Mentorship Program in Chilliwack
As Canadians across the country continue to confront and examine the Nation's past, a new brand and website has launched for the Stó:lō youth program, Mémiyelhtel, in Chilliwack. Mémiyelhtel's website is using storytelling to share the unique aspects of their work, raise awareness and encourage community collaboration.
Supported by the brand engagement agency, Partners & Hawes, the brand and website – www.memiyelhtel.ca – was developed by an Indigenous youth mentorship program at Stó:lō Service Agency, known as Mémiyelhtel. Mémiyelhtel, the traditional Halq'eméylem name for the program which means "helping others be well", has a decade long history of working with Indigenous youth who are facing significant challenges. The program has offered specialized services to more than 100 young people from 30 different Indigenous communities, supporting them through their teenage years to graduation and beyond. With a renewed focus on Indigenous learners in the Chilliwack School District and the inclusion of more community partners like Mémiyelhtel, the Indigenous graduation rates in Chilliwack have risen from 55 percent to 79 percent, since 2012.
The Mémiyelhtel program has witnessed many successes, which have assisted in additional partnerships with local agencies, community members and businesses. Motivation to create the website came from the ongoing interest and inquiries about the program, the desire to share about the work and the need to highlight the demands and gaps in service.
"We're often asked about the needs of the program and how people can support the work we are doing", explained Youth Services Manager, Breanna Miller. "The answer is, there are many ways to support. We need additional funds to meet the demand for our program. We have reoccurring waitlists and can only service about half of the youth who are referred to us. Many people are still largely unaware of the challenges and needs of Indigenous youth in our particular community. While we do our best to provide service to as many youth as possible, the reality is that many do not receive the supports they need."
Chief David Jimmie has been a strong advocate for the program recognizing the challenges Mémiyelhtel has faced over the years. "The commitment and dedication from staff and elders working in the program is incredible especially the drive and vision from our Youth Services Manager Breanna Miller. Indigenous youth face unique struggles given the historical trauma that still exists today, and this program is an opportunity for those youth to learn more about who they are through cultural teachings while receiving proper supports to gain confidence in working through life challenges. The program welcomes supporters like Baker Newby so they can serve additional youth and work towards the goal of turning no individual away."
The program has Intensive Support and Resource Workers (ISRWs) and respected Elders who are trusted adults that support each youth as they navigate through the challenges of adolescence and the impacts of childhood and intergenerational trauma. Many of the youth are first and second generation descendants of residential school survivors. Their stories are a compelling reminder there is still much work to be done. However, when youth are connected to their culture and outside resources, the concept of "Every Child Matters" becomes more of a reality.
The new website tells the story of the program and raises awareness of initiatives and needs. It also contains opportunities to invest in the unique needs of Indigenous youth. The website highlights a new community partnership with Baker Newby in a one-for-one campaign, that will match donations up to $50,000.
For more information, please visit the website or email youth@stolonation.bc.ca
Starfish Backpack Program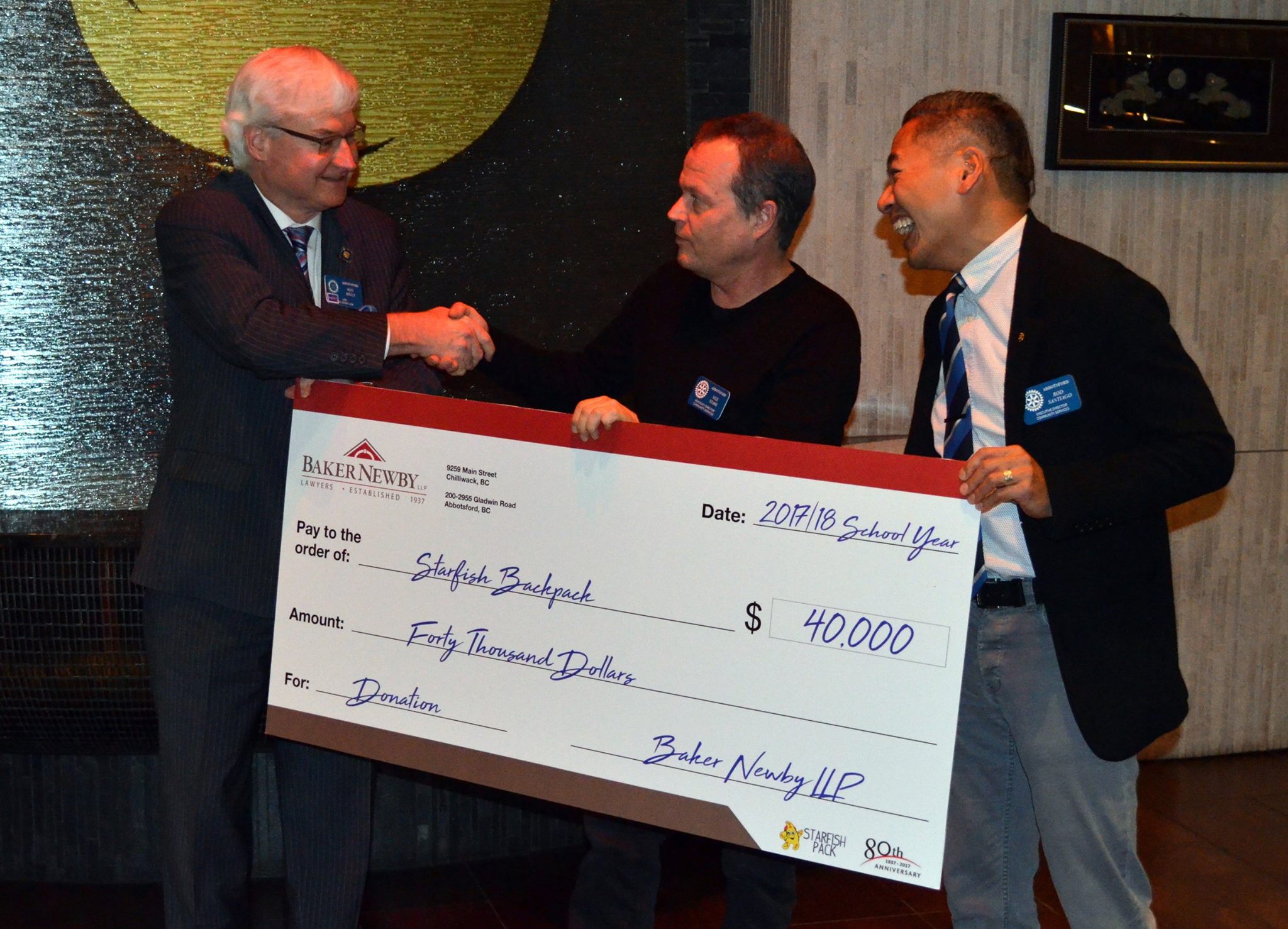 In 2017, Baker Newby announced the creation of a matching grant program in support of the Abbotsford and Chilliwack Starfish Pack programs. The program matched dollar for dollar all local donations, up to a maximum of $80,000.  That amount allowed the Starfish Pack program to add 300 additional children to the weekend food program for the entire 2017-2018 school year. 
"We're grateful to have been part of the communities of Abbotsford and Chilliwack for such a long period", said Baker Newby Administrator Tim Wurtz. "Many of our 75 lawyers and staff have been passionate supporters of Starfish Packs and are personally committed to making a real difference in the lives of hungry kids in our communities. "
One of the reasons Starfish Packs was selected as the charity Baker Newby wanted to support during their 80th anniversary was its community approach.  "To see individuals, businesses, faith groups and service clubs all working together to make our community stronger is something that really resonates with the priorities of our partners and our firm as a whole", Wurtz said. 
Starfish Pack sends a backpack with two breakfasts, two lunches, two dinners and snacks home every Friday to school children who otherwise would face the possibility of going without food until they returned to school on Monday morning. 
Starfish Pack was created in Abbotsford through a partnership between the Abbotsford Food Bank and the Abbotsford Rotary Club.  Chilliwack launched their own program a year later and the program has expanded to 17 BC communities feeding over 700 children in need every weekend during the school year.   
Abbotsford Rotary Club President Sara Lawson said the announcement couldn't have come at a better time.  "Our Rotary Hole In One event had to be cancelled this year due to winter storm damage at Fraser Glen Golf.   Having Baker Newby step up with this amazingly generous gift means we won't have to turn away hungry kids." 
Jane Ullyot is a Chilliwack teacher who helped found the Chilliwack Starfish Pack program.   "Chilliwack has come together in ways we never imagined when we started Starfish Packs", she said.   "Baker Newby's gift will hopefully inspire many others to join us in expanding the program to hundreds of Chilliwack kids who are still going hungry every weekend."
To support the Abbotsford or Chilliwack Starfish Pack program, go to:     http://starfishpack.com/donate/
Dolly Parton Imagination Library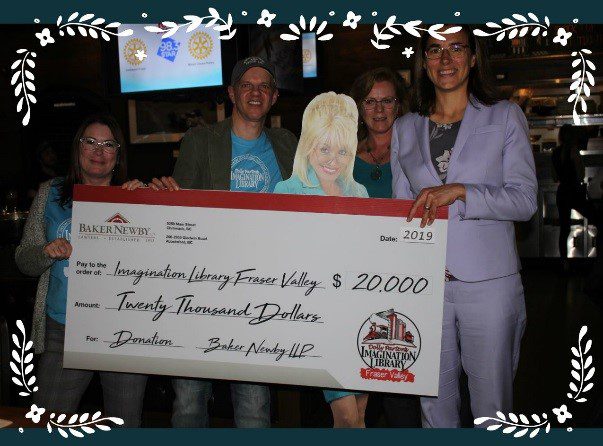 In 2018, Baker Newby announced the creation of a matching grant program in support Dolly Parton's Imagination Library, Fraser Valley. The program matched dollar for dollar all local donations received up to a maximum of $20,000.  This amount provided approximately 200 infants and toddlers with a book per month until age 5. 
"We're grateful to have been part of the communities of Abbotsford and Chilliwack for such a long period", said Baker Newby Administrator Tim Wurtz. "Many of our 75 lawyers and associates are passionate advocates for early literacy.  Children with access to books and exposed to reading prior to kindergarten are more likely to achieve academic success".  
One of the reasons Baker Newby chose Imagination Library is to highlight childhood literacy as a fundamental building block to community and personal success.  "We hope individuals, businesses, faith groups and service clubs will feel as inspired as we are to help shine the spotlight on the benefits of early childhood literacy", Wurtz said. 
Dolly Parton, best known as a country music entertainer started the Imagination Library in 1995 to help improve childhood literacy in her home county in Tennessee. Since that time, the program has grown significantly, with 170 affiliates in Canada, and 35 in British Columbia.  Enrolled children receive an age-appropriate book each month in the mail from birth to age five. There is no charge to register and the books are free.   Book selections include classic titles like the Little Engine that Could along with books that reflect Canadian values and history including "Counting on Snow" by local Harrison author Maxwell Newhouse.  
The Dolly Parton Foundation provides program administrative support, but book costs are covered through local fundraising efforts.  Brian Martin, of Made to Measure Performance and Engagement Solutions, saw the impact the program has on children and partnered with the Optimist Club of Chilliwack to introduce the program in Chilliwack earlier this year.  
"Community interest and support has been extremely encouraging", said Martin. "The support of Baker Newby's matching program will accelerate achievement of our three-year goals by immediately delivering high quality books to local children who might not otherwise have access.  Their generous support is the big break we've been hoping for and a shining example of their commitment to the children, families and the community".  
2019 Everest Canadian Senior Curling Championships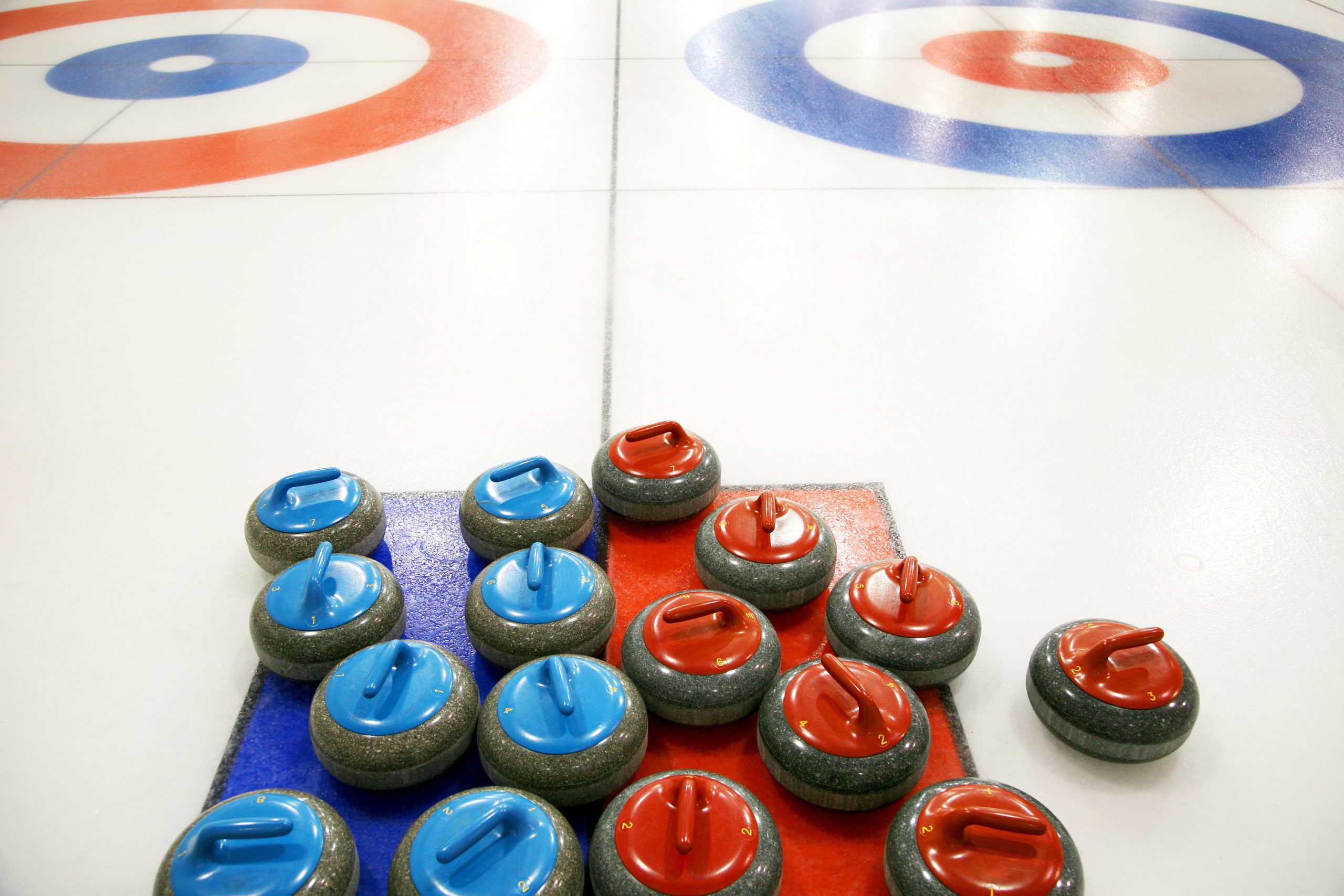 In 2019, Baker Newby was a preseting sponsor of the Everest Canadian Senior Curling Championships, Canada's national 50+ curling championship, held at the Chilliwack Curling and Community Centre in Chilliwack, British Columbia.  This was the first event to be held at the new Chilliwack Curling and Community Centre facility.
The men's event was headlined by defending champions Bryan Cochrane of Ontario and two-time world champion Al Hackner of Northern Ontario. The women's event was headlined by defending champions Sherry Anderson (and 2018 World Senior champion) of Saskatchewan, 2006 Olympic bronze medalist Glenys Bakker of Alberta and four-time Tournament of Hearts bronze medalist Sherry Middaugh of Ontario, who made her seniors debut.
2018 RBC Cup | National Junior A Hockey Championship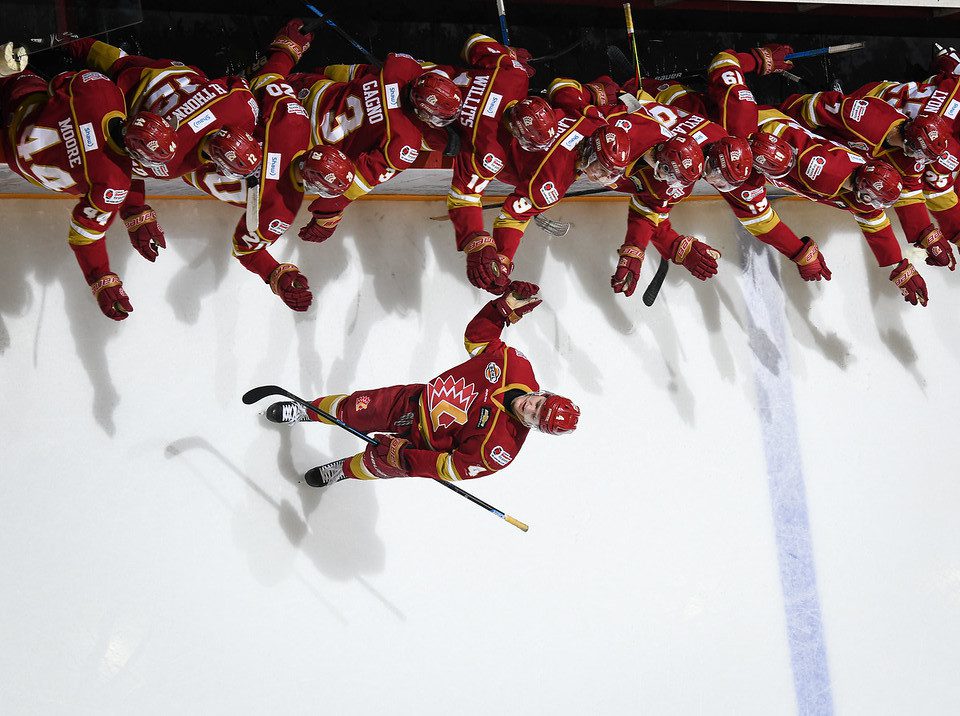 As a Gold Sponsor in 2018, Baker Newby was proud to watch our local Chilliwack Chiefs defeat the Wellington Dukes 4-2 to take home the championship. 
The 2018 Royal Bank Cup was the 48th Canadian junior A Ice Hockey National Championship for the Canadian Junior Hockey League and the 48th consecutive year a national championship was awarded to this skill level since the breakaway of Major Junior hockey in 1970. The tournament was played at the Prospera Centre in Chilliwack, British Columbia.