Major Community Sponsorships
Starfish Backpack Program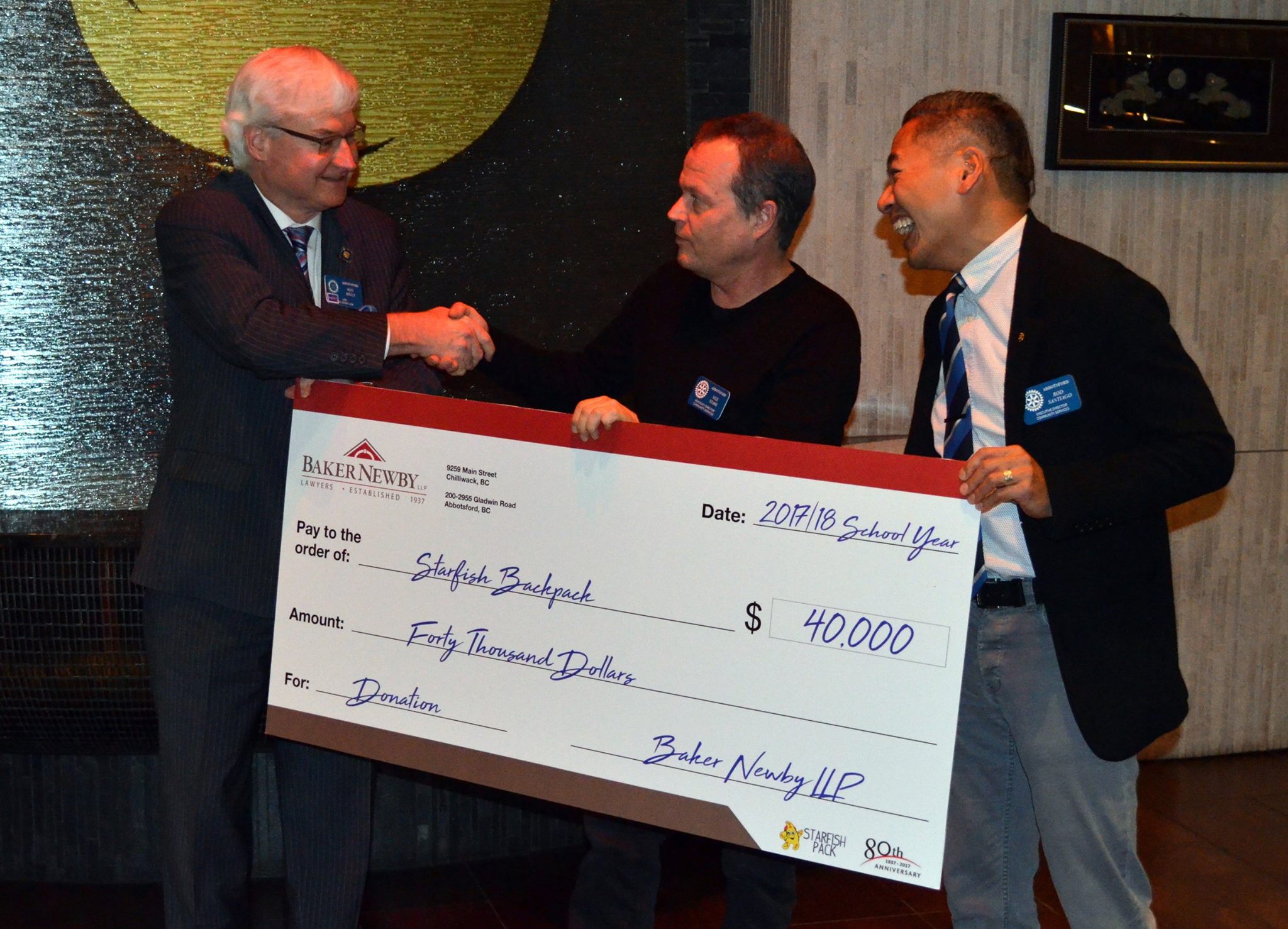 In 2017, Baker Newby announced the creation of a matching grant program in support of the Abbotsford and Chilliwack Starfish Pack programs. The program matched dollar for dollar all local donations, up to a maximum of $80,000.  That amount allowed the Starfish Pack program to add 300 additional children to the weekend food program for the entire 2017-2018 school year. 
"We're grateful to have been part of the communities of Abbotsford and Chilliwack for such a long period", said Baker Newby Administrator Tim Wurtz. "Many of our 75 lawyers and staff have been passionate supporters of Starfish Packs and are personally committed to making a real difference in the lives of hungry kids in our communities. "
One of the reasons Starfish Packs was selected as the charity Baker Newby wanted to support during their 80th anniversary was its community approach.  "To see individuals, businesses, faith groups and service clubs all working together to make our community stronger is something that really resonates with the priorities of our partners and our firm as a whole", Wurtz said. 
Starfish Pack sends a backpack with two breakfasts, two lunches, two dinners and snacks home every Friday to school children who otherwise would face the possibility of going without food until they returned to school on Monday morning. 
Starfish Pack was created in Abbotsford through a partnership between the Abbotsford Food Bank and the Abbotsford Rotary Club.  Chilliwack launched their own program a year later and the program has expanded to 17 BC communities feeding over 700 children in need every weekend during the school year.   
Abbotsford Rotary Club President Sara Lawson said the announcement couldn't have come at a better time.  "Our Rotary Hole In One event had to be cancelled this year due to winter storm damage at Fraser Glen Golf.   Having Baker Newby step up with this amazingly generous gift means we won't have to turn away hungry kids." 
Jane Ullyot is a Chilliwack teacher who helped found the Chilliwack Starfish Pack program.   "Chilliwack has come together in ways we never imagined when we started Starfish Packs", she said.   "Baker Newby's gift will hopefully inspire many others to join us in expanding the program to hundreds of Chilliwack kids who are still going hungry every weekend."
To support the Abbotsford or Chilliwack Starfish Pack program, go to:     http://starfishpack.com/donate/