Brian Vickers
Associate, Lawyer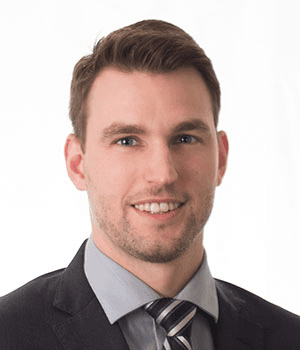 Brian Vickers was born and raised in Abbotsford. He grew up playing baseball with the Abbotsford Cardinals and, with the guidance and support of his local community, went on to play for various universities in Canada and across the United States. After exhausting that dream with a short professional career, Brian hung up his spikes and pursued a career in law in order to give back to the community that continues to support him.

Brian's primary focus is to provide value to his local community. Whether this is accomplished by providing practical legal advice in a clear and easy to understand manner or by advocating for clients at trial, Brian is committed to working with his clients to alleviate stress and dispel any uncertainty regarding the litigation process.
Brian also strives to provide value to the community beyond his office or the courtroom. The following are some of the community organizations that he has been involved with:
Board Member – Big Brothers Big Sisters of the Fraser Valley (2017 – present)
Campaign Cabinet Member – United Way of the Lower Mainland (2017 – present)
President – Chilliwack District Bar Association (2016 – 2017)
Treasurer – Chilliwack District Bar Association (2015 – 2016)
Brian graduated with his Juris Doctor from Thompson Rivers University in 2014 and was called to the British Columbia Bar in 2015. Since being called, Brian has developed an impressive record in the courtroom, running five Supreme Court trials recently. Brian has focused in the area of defamation law with considerable success for his clients and invites further inquiries in this area of law. A sampling of Brian's defamation cases can be found in the links below:
Brian also practices personal injury, employment law, commercial law and insurance defence. Further results from Brian's efforts in trial are provided in the following links:
Categories of Practice
Team Members Blog Posts
In the recent decision of Pritchard v Van Nes, 2016 BCSC 686, the Court was faced with the issue...
Read More
In the recent decision of Acumen Law Corporation v. Nguyen, 2018 BCSC 961, Madame Justice Murray for the Supreme Court...
Read More
How can we help you?
You don't have to be involved in a civil or criminal conflict or controversy to benefit from legal counsel.

People hire lawyers for advice and expertise all of the time, in all kinds of situations. In good times as well as bad, with a lawyer's help, individuals and businesses understand and secure their legal rights and financial interests.
Get in Touch